Eco Sentido launches Carbon Neutral Solutions Services
Kuala Lumpur, October 5, 2022 – Eco Sentido Sdn Bhd (Eco Sentido) today announced the launch of its new on demand advisory services that could help companies better understand and strategize their carbon management effort. 
The services include helping companies plan their climate action strategies, develop science-based target initiative, carbon footprint assessment and carbon reduction plans to enhance their operation in sustainability. 
"This service is an extension of the knowledge gained from our past 10 years of operation in providing carbon footprints measurement for printed material," said Ms Teh Soo Tyng, the Sustainability Director at Eco Sentido Sdn Bhd. 
"All in all, we have completed more than 36 jobs that were certified with the carbon footprint label," she added. 
We understand that managing carbon emission poses a new strategic challenge for most companies in the country due to the technicality of the topic. This is now further exacerbated by the announcement of the prime minister, Dato' Sri Ismail Sabri Yaakob, that the country sought to become carbon neutral as early as 2050. 
In addressing the carbon management concerns of companies, this year, Eco Sentido is partnering with ClimatePartner in offering both carbon footprint calculations and carbon offsetting for print products. Moreover, it is also offering carbon footprint assessment for events, following the successfully completion of several carbon footprint assessment projects. 
In this respect, we can help your organization to select a project that fits your company's communication strategy. 
This latest offering demonstrates Eco Sentido's commitment in promoting sustainable development while helping companies manage their carbon. Measuring, reducing and offsetting your company's carbon footprint will make your company carbon neutral and allow you to use the "Carbon Neutral" label of ClimatePartner.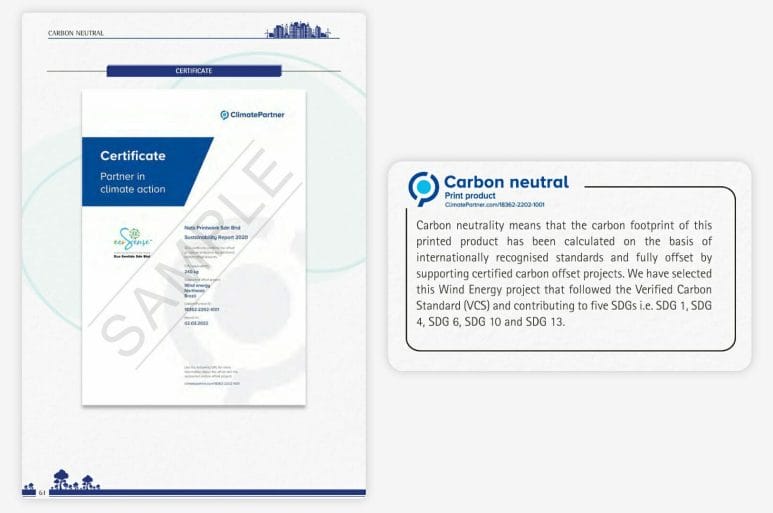 About Eco Sentido Sdn Bhd 
Eco Sentido is a sustainability management consultancy and training company. It offers a wide range of services that include ecosystem development, Eco Office Initiative Project (EOIP), Environment Management System (EMS), Sustainability Report writing, Environment Social and Governance (ESG) reporting, Life Cycle Assessment (LCA), carbon footprint (CFP) analysis, Eco Innovation Management, Eco Design, Green Event Management, and Smart Green Technology implementation towards a low carbon and circular economy. 
Eco Sentido is a Human Resource Development Corporation (HRDC) certified training provider, a Ministry of Finance (MOF) registered company, a partner of Malaysia Productivity Corporation (MPC) and a Forest Stewardship Council® (FSC®) promotional license holder. 
About Climate Partner 
Our partner is a leading solution provider for corporate climate action: ClimatePartner combines individual consulting with a cloud-based software that is unique on the market. ClimatePartner offers certified carbon offset projects in different regions and with different technologies and standards. The carbon neutral label is the most transparent and internationally widespread.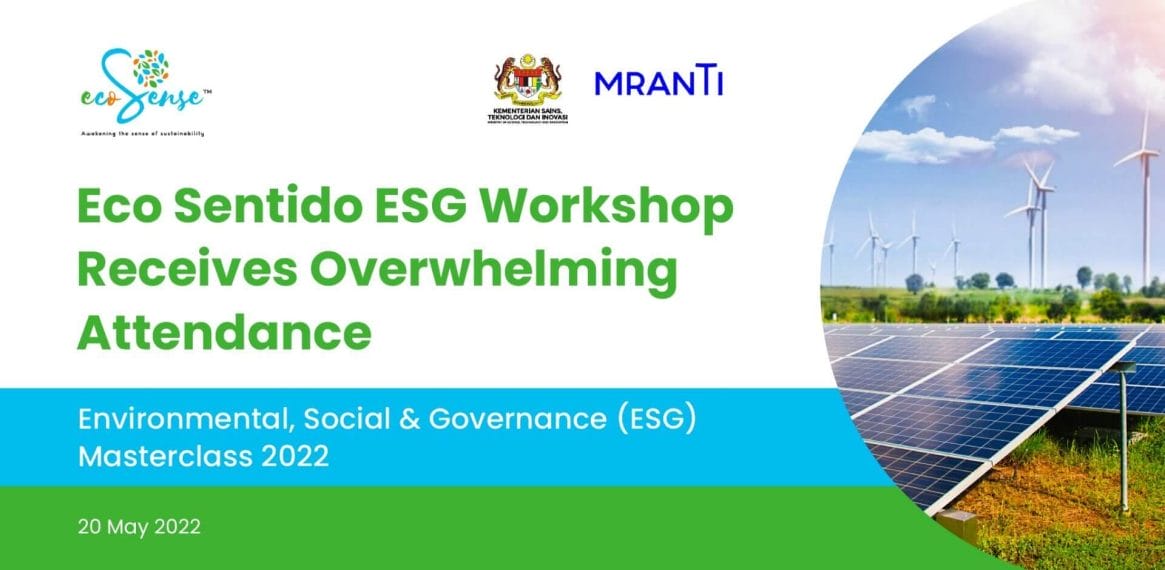 Inaugural MRANTI-Eco Sentido ESG Workshop Receives Overwhelming Attendance
Inaugural MRANTI-Eco Sentido ESG Workshop Receives Overwhelming Attendance 20 May 2022, Kuala Lumpur: The inaugural Environmental, Social and Governance (ESG) workshop, known as the MRANTI ESG Masterclass, was jointly held in Kuala Lumpur, from 12-13 May 2022, and received overwhelming response with full attendance from both the government and private sectors.
"MRANTI and Eco Sentido are indeed honoured to record such positive reception in our first joint ESG Masterclass aimed at advancing both knowledge and practical skill of utilizing ESG data for the organisations' purpose," stated Ms Teh Soo Tyng, Director of Eco Sentido Sdn Bhd.
"MRANTI and Eco Sentido are committed to supporting both public and private Malaysian organistions in their mission to build up ESG adoption in their daily operation, Mr David Lim, Impact Innovation Manager, MRANTI added.
This ESG masterclass is aimed at helping businesses, organisations and individuals build a fundamental understanding of the key areas required to implement and communicate ESG and Sustainable Development Goals (SDGs) related practices in day-to-day responsibilities.
The two-day programme was divided into 13 sessions, with nine trainers from both the academic and professional sectors, shared in-depth insights on how to communicate effectively on ESG & Sustainability-related topics relevant to the current and future workforce. They also shared tactical strategies for new sustainability initiatives, build and implement ESG Integrated Sustainability Framework, as well as ESG Integration in technology and innovation. Another feature of the programme was their sharing of inventive ways to embed ESG and Sustainability in organisations that will ultimately create an impactful and sustainable future.
For more information about the MRANTI ESG Masterclass, please contact Ms Nurul at socialimpact@mymagic.my
About MRANTI
The Malaysian Research Accelerator for Technology and Innovation (MRANTI), a convergence of Technology Park Malaysia (TPM) Corporation Sdn Bhd and the Malaysian Global Innovation and Creativity Centre (MaGIC), is Malaysia's central research commercialisation agency that fast-tracks the development of technology innovations from ideas to impact.
MRANTI serves as a connector, incubator and catalyst to enable early-stage ideation to mature entities to commercialise and scale. MRANTI offers innovators and industry access to world-class integrated infrastructure, interventions & programmes, partnership and a suite of resources. In doing so, MRANTI aims to expand Malaysia's funnel of innovation supply, and unlock new R&D value by ensuring effective transitions in the commercialisation lifecycle. It will also link academia with industry and the public sector to streamline market-driven R&D efforts for mission-based outcomes.
MRANTI is headquartered at MRANTI Park, an extensive 686 acre 4IR innovation hub in Kuala Lumpur, is supporting the growth of smart manufacturing, biotech, agritech, smart city, green tech and enabling technology clusters.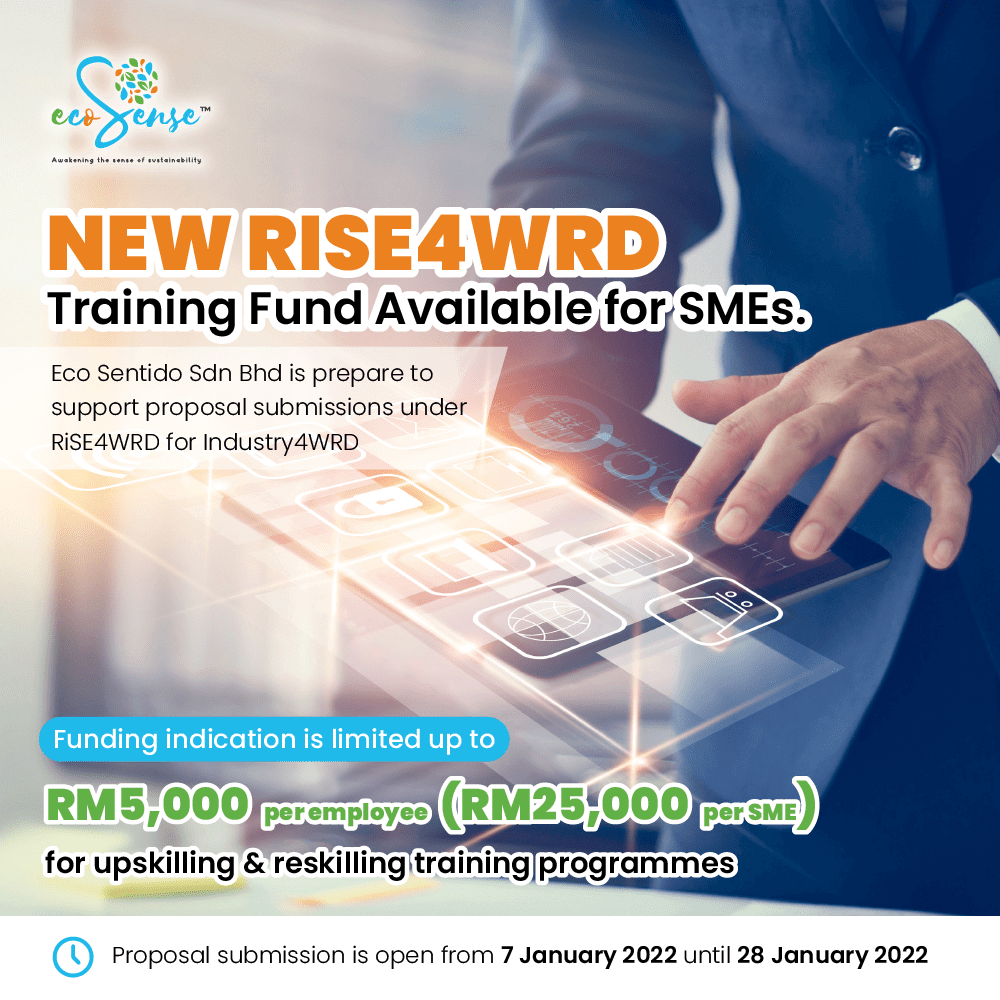 NEW RISE4WRD Training Fund Available for SMEs.
It is always a big struggle when company trying to implement digital transformation and which Industry 4.0 kicks in to transform business and jobs faster than workers can adapt.
It's time to respond to these challenges by supporting and developing the workforce of tomorrow.
Eco Sentido Sdn Bhd is prepare to support proposal submissions under RiSE4WRD for Industry4WRD, which we will support the SMEs which have undergone the Readiness Assessment (RA) by providing their employees a platform to obtain the relevant training programmes as proposed/identified in the RA Reports.
The employees will be educating by certified training, to ensure that they are well trained and taught with the right knowledge and skills prior to technology adoption. To boots employees performance more efficiently in handling the production process/equipment leading to productivity improvement.
As such, we are inviting our esteemed registered employers that have undergone the RA to participate in this programme.
The funding indication is limited up to RM5,000 per employee (RM25,000 per SME) for upskilling and reskilling training programmes.
Proposal submission is open from 7 January 2022 until 28 January 2022. For any further enquiries, please email to us at info@ecosense.com.my. Tel- +603-8942 9858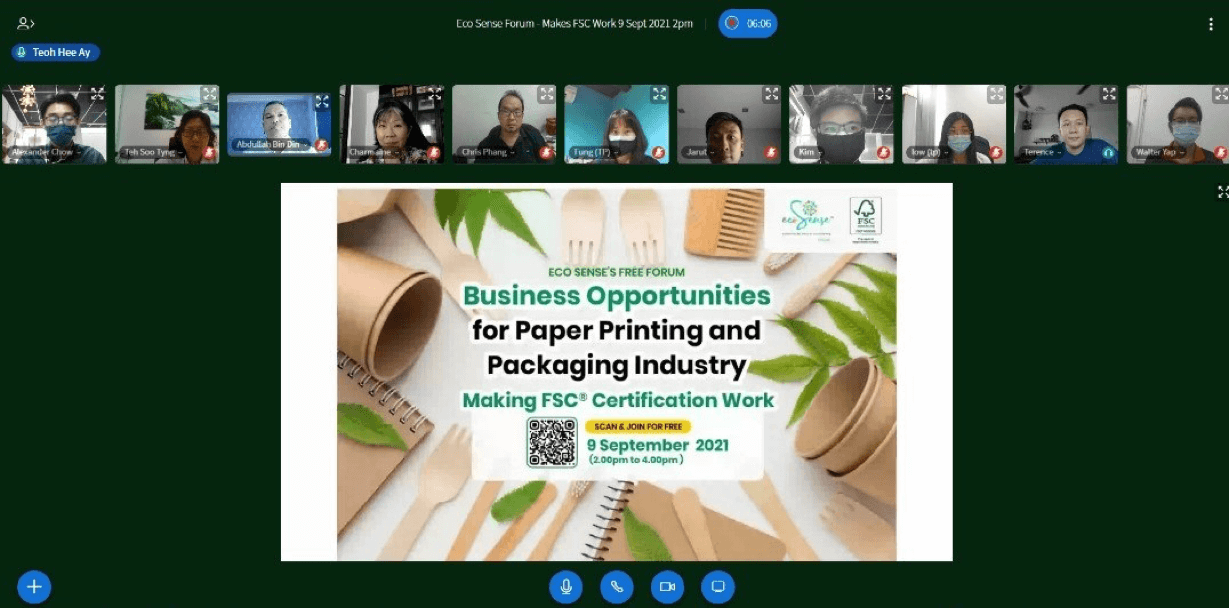 Business opportunities for paper printing and packaging industry – Making FSC Certification Work
This Eco Sense forum is designed to understand about the international business opportunities for paper printing industry through FSC® Certification. During this forum, the speakers discuss about the latest updated on FSC® certification, its business opportunities, the certification process and the Market Development Grant (MDG) new initiatives to help SMEs to obtain international certification. Speakers include: –
Mr. Abdullah Din – Product Manager (Chain of Custody), SGS (Malaysia) Sdn Bhd, Ms Charmaine Chee (Country Manager, FSC Malaysia) and lastly,Ms Teh Soo Tyng (Director, Eco Sentido Sdn Bhd). 
The presentation topics: – 'FSC®Business in Malaysia – FSC® certification by SGS', 'Exploring the FSC® Labels Trademarks and Tools', 'How to Prepare Yourself for FSC Certification'
Nets Printwork Sdn Bhd wins Bronze at Sixth Asia Sustainability Reporting Awards
Singapore, 19 May 2021: Nets Printwork Sdn Bhd has won a Bronze in Asia's Best Sustainability Report (SME) at the 6th Asia Sustainability Reporting Awards (ASRA), the most prestigious international awards for corporate reporting.
Nets Printwork Sdn Bhd was also one of the finalist in Asia's Best Supply Chain Reporting at the awards ceremony today.
"I would like to thank Ms. Teh Soo Tyng and her team as well as Eco Sentido Sdn Bhd for their hardwork and dedication in going the extra miles for the sustainability of our company despite the challenging environment," Mr Teh Leong Sim, Managing Director of Nets Printwork Sdn Bhd said.
The winners were revealed in an exclusive event hosted virtually in Singapore due to the ongoing pandemic.
The awards ceremony began with the opening address by the Guests of Honour
H.E. Ms Kara Owen, the British High Commissioner to Singapore, and H.E. Mr Niclas Kvarnström, the Swedish Ambassador in Singapore. The awards ceremony also featured a string of rapid-fire sessions with ASRA judges.
"Nets Printwork Sdn Bhd's report shows exceptional leadership in transparent reporting of its sustainability performance and reflects its readiness for a resilient future," Rajesh Chhabara, managing director of CSRWorks International and the founder of ASRA, said.
An independent panel of judges reviewed 494 entries received from 17 countries across 19 award categories. After the preliminary evaluations, 102 companies from 14 countries made it to the finals. Intensely contested finals produced 39 winners grabbing 57 gold, silver and bronze medals and a Report of the Year award.
Broadcast live, the virtual awards ceremony was attended by more than 250 senior business leaders and sustainability practitioners from 20 countries. Attendees also included dignitaries from academia, embassies, trade associations and advocacy organisations.
ASRA follows a rigorous multi-tier evaluation process. An independent judging panel determines finalists and winners. Evaluation involves three rounds of assessment to select the very best in each award category. In addition to assessing the report quality, comprehensive due diligence considers companies' reputation among their stakeholders as part of the judging process.
---
Note to editors:
More comprehensive information on the Asia Sustainability Reporting Awards is available at www.csrworks.com/asra
For more information, contact:
Teh Soo Tyng
Eco Sense Secretariat
Asia Sustainability Reporting Awards
Email: sootyng@netsgroup.com.my
About the Asia Sustainability Reporting Awards
The Asia Sustainability Reporting Awards (ASRA) recognise and honour sustainability reporting leaders in Asia. The Awards celebrate best practices in sustainability reporting. The vision for ASRA is to become the most inspiring recognition for sustainability reporting excellence in Asia. An independent panel of distinguished judges evaluates the entries to select the winners.
ASRA aims to give organisations, large and small, the opportunity to showcase their sustainability efforts, thereby building trust among their stakeholders, adding value to their businesses and attracting responsible investors.
About CSRWorks
CSRWorks is Asia's most prominent sustainability champion. Besides the Asia Sustainability Reporting Awards, we also organise the annual Asia Sustainability Reporting Summit, a highly admired international conference. Our Asia's Top Sustainability Superwomen programme honours the region's most inspiring women leaders through an annual listing.
For more information, visit www.csrworks.com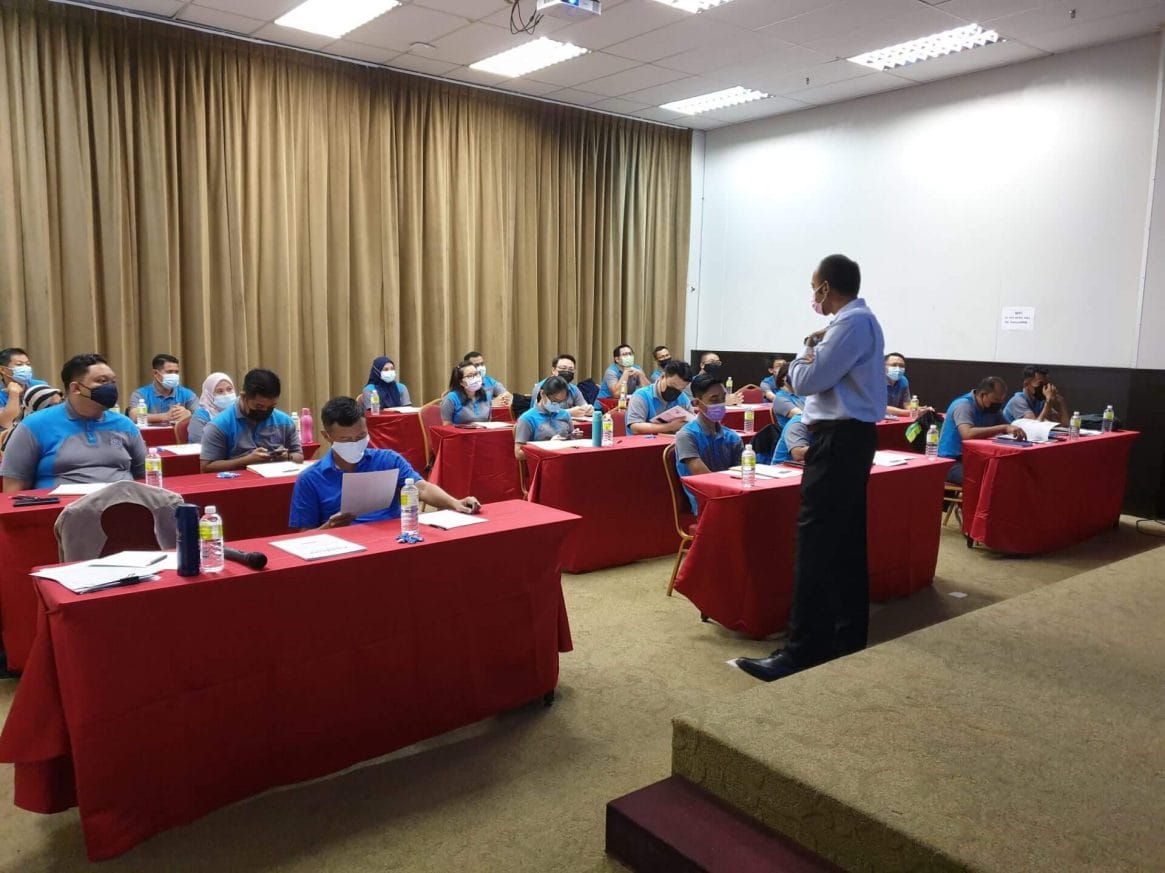 Awareness of Industry Revolution 4.0 Digital Transformation
We assist organisation who has obtained their Industry4WRD Readiness Assessment (RA) Report by organising two days training on "Awareness of Industry Revolution 4.0 Digital Transformation" on 29- 30 March 2021 and 6-7 April 2021 for two different companies.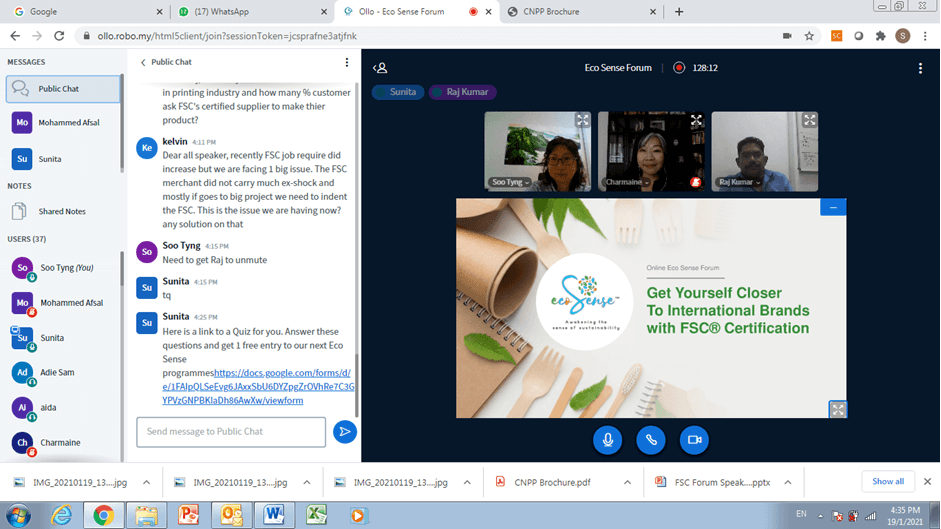 Eco Sense Forum: "How FSC Certification Bring You Closer to International Brands"
Eco Sense Resource Centre of Eco Sentido Sdn Bhd had organised Eco Sense Forum: "How FSC Certification Bring You Closer to International Brands" on 19 January 2021 (Tuesday) from 2.30 pm to 4.30 pm. The forum is aimed to provide updated information to stakeholders in the print and packaging industry on right sourcing, to expand their business and gain new clients. The panel of speakers include Ms Charmaine Chee, Country Manager of FSC Malaysia, Mr Hari Raj Kumar, Operations and Marketing Managerof MBf Printing Industry Sdn Bhd, Ms Teh Soo Tyng, Sustainability Director of Nets Printwork Sdn Bhd.