Igniting Change: A Peek into ESG Manager Course Journey
ESG is the hot topic nowadays, and if you're wondering where to start, Eco Sentido's Academy of Sustainability & Innovative has got you covered! We've just wrapped up three of our ESG Manager Courses, and what an inspiring journey it has been. Participants from diverse backgrounds have embarked on an adventure, uncovering a new chapter in their sustainability journey, gaining a deeper understanding of Environmental, Social, and Governance (ESG) principles, and igniting a passion for lasting change.
Guided by experienced trainers, the participants are equipped with essential skills and know-how that are key to excelling in sustainability. Over the past three sessions, participants explored the core ESG concepts, unlocking the power of protecting the environment, transparent governance, and the ins and outs of GHG management. From grasping sustainability's vital role in businesses to championing ethical choices, these courses laid strong foundations for sustainable practices.
A Sneak Peek into Our Three Courses Adventure:
Siri 1(ESG01) Sustainability and Environment: Under the guidance of Dr. Chen, this module gave participants a firm understanding of true sustainability. Real-world case studies brought concepts to life, and the connection between SDGs and our daily lives and business was explored. Dr. Chen's objective? To make sustainability accessible and down-to-earth, even more applicable. And that's exactly what happened, with a special focus on Environmental Themes and insights into Bursa Malaysia's requirements and essential sustainability indicators.
Siri 2(ESG02) Sustainability and Governance – Enterprise Risk Management: A dynamic trainer, Mr. Dennis Chong, prompted participants to dive into the critical realm of risk management. They engaged in interactive boardroom sessions, wearing their risk-thinking hats, and exchanging focused discussions. As Mr. Dennis rightly emphasized, every project comes with risks. The challenge lies in identifying them and integrating them into our strategies. It's all about finding systematic ways to fuse business with the awareness of risks and the power of data. The key? Effective communication and technology.
Siri 3(ESG03) GHG Management: Mr. Tang's session demystified GHGs and climate change's impact through relatable examples and systematic approaches. Carbon pricing initiatives, offset strategies, life cycle understanding, and organizational-level GHG accounting became crystal clear. Exercises rounded out the session, letting participants gauge their knowledge. Mr. Tang's goal? Prepare participants to assess and act on emission reduction, essential in the face of climate change.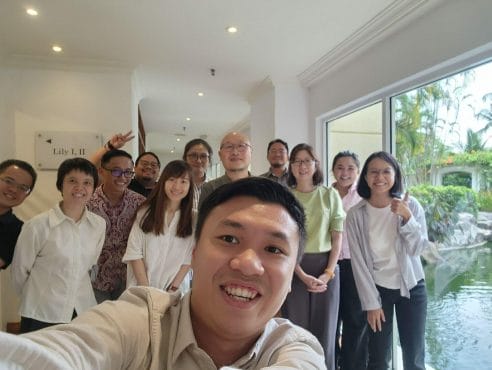 Voices of Empowerment: Testimonials from Participants:
Shahdan from MPOGCF: "Tailored sustainable insights, perfect for my industry. It's all about becoming responsible and being recognized by global consumers."
Yen Yen from Onsemi: "The course is a comprehensive intro for everyone. A chance to contribute to sustainability, industry after industry."
Yong Kian from APU University: "Vital for updating student materials. Trainer-participant interactions make learning fascinating."
Syafiq from MRANTI: "Incredibly valuable for our sustainability journey. Loved the practicality and insights shared by the trainers. They made complex concepts understandable."
In a Nutshell: Why Join the ESG Manager Courses?
1. Engaging Learning Adventure: Our ESG Manager Course is a dynamic, interactive experience unlike traditional courses. Our trainers create an environment where insights flow through discussions, case studies, and hands-on exercises. Learning isn't limited to classrooms; it's an exploration of solutions and ideas.
2. Tailored for Industries: ESG isn't one-size-fits-all; it adapts to different sectors. Our course caters to this diversity, offering insights tailored to your industry, whether finance, manufacturing, or tech.
3. Action-Ready Insights: While theory matters, action matters more. The ESG Manager Course equips you with practical insights that transform into real-world change. The trainers bridge the gap between theory and practice, making sustainability accessible.
4. Network of Change-Makers: By joining us, you're part of a network dedicated to making a difference. Collaboration, idea-sharing, and collective progress are the name of the game.
Don't let the chance slip away. Join the movement that's shaping the future. Register now for the next ESG Manager Courses and become an Eco Leader, confident in your ability to make a change. For details and registration, visit https://www.netsgroup.com.my/esg-manager-courses-full-siri/. Let's build a more sustainable tomorrow, together!