Eco Sentido launches Carbon Neutral Solutions Services
Kuala Lumpur, October 5, 2022 – Eco Sentido Sdn Bhd (Eco Sentido) today announced the launch of its new on demand advisory services that could help companies better understand and strategize their carbon management effort. 
The services include helping companies plan their climate action strategies, develop science-based target initiative, carbon footprint assessment and carbon reduction plans to enhance their operation in sustainability. 
"This service is an extension of the knowledge gained from our past 10 years of operation in providing carbon footprints measurement for printed material," said Ms Teh Soo Tyng, the Sustainability Director at Eco Sentido Sdn Bhd. 
"All in all, we have completed more than 36 jobs that were certified with the carbon footprint label," she added. 
We understand that managing carbon emission poses a new strategic challenge for most companies in the country due to the technicality of the topic. This is now further exacerbated by the announcement of the prime minister, Dato' Sri Ismail Sabri Yaakob, that the country sought to become carbon neutral as early as 2050. 
In addressing the carbon management concerns of companies, this year, Eco Sentido is partnering with ClimatePartner in offering both carbon footprint calculations and carbon offsetting for print products. Moreover, it is also offering carbon footprint assessment for events, following the successfully completion of several carbon footprint assessment projects. 
In this respect, we can help your organization to select a project that fits your company's communication strategy. 
This latest offering demonstrates Eco Sentido's commitment in promoting sustainable development while helping companies manage their carbon. Measuring, reducing and offsetting your company's carbon footprint will make your company carbon neutral and allow you to use the "Carbon Neutral" label of ClimatePartner.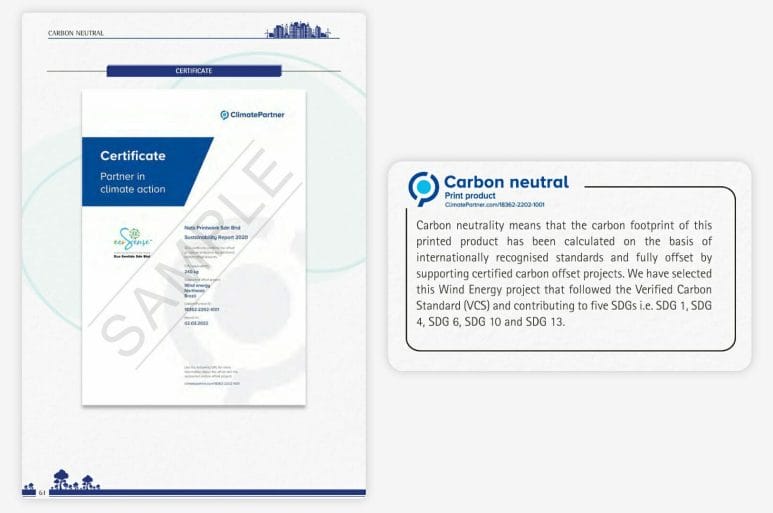 About Eco Sentido Sdn Bhd 
Eco Sentido is a sustainability management consultancy and training company. It offers a wide range of services that include ecosystem development, Eco Office Initiative Project (EOIP), Environment Management System (EMS), Sustainability Report writing, Environment Social and Governance (ESG) reporting, Life Cycle Assessment (LCA), carbon footprint (CFP) analysis, Eco Innovation Management, Eco Design, Green Event Management, and Smart Green Technology implementation towards a low carbon and circular economy. 
Eco Sentido is a Human Resource Development Corporation (HRDC) certified training provider, a Ministry of Finance (MOF) registered company, a partner of Malaysia Productivity Corporation (MPC) and a Forest Stewardship Council® (FSC®) promotional license holder. 
About Climate Partner 
Our partner is a leading solution provider for corporate climate action: ClimatePartner combines individual consulting with a cloud-based software that is unique on the market. ClimatePartner offers certified carbon offset projects in different regions and with different technologies and standards. The carbon neutral label is the most transparent and internationally widespread.